Posted by Kelli, Gator Kennels on 2019-09-13
According to the Oxford dictionary, non-profit is defined as an organization that is "not making or conducted primarily to make a profit." Another way to think of it is, organizations that are not for profit. Non-profits are not making a financial gain. In a nutshell, the majority of non-profit's mission is to help, be that humans, environment, or animals.
So what are some examples of non-profit organizations that focus on pets?
Shelters
Rescues
Animal Control
Humane Societies
Sanctuaries
Non-Profits can be funded privately, governmentally, or a combination of both. Most non-profits file for 501(c) or 501(c)(3), which allows them to perform their operations tax-exempt. Unfortunately, there are scams out there that claim to be a not for profit organization but in actuality are not. It is important do some research before blindly donating to a organization that claims to be non-profit. A few ideas are to know the organization and what their monies go to, ask for their 501(c)/(3) information or visit this IRS web page to search for the organization in question.
Now that we have defined some terms relating to non-profits for pets, let's look at some statistics:
There are approximately 84.6 million United States households with a pet, that's 68% of the US population.
Over 40% of cats and dogs are adopted from a non-profit organization.
In 2018, according to the Shelter Animals Count website, 2,873 organizations were registered as "non-profits," and those organizations had over 3 million net intakes of cats and dogs in the United States.
That is an astounding amount of pets looking for their forever homes!
As the popular slogan says, "Adopt, Don't Shop!"
So what about those that want to start a non-profit for pets?
There are many great resources for the nitty-gritty on starting a non-profit for pets that can be easily found through an internet search as well as social media platforms. While we aren't experts on that particular subject, we have found some awesome ideas for those looking for ways to fund their organization. And we are experts on custom pet kennels!
First, let's talk fundraising ideas. Bonfire.com has some great ideas and can even help with the execution of some of the following examples.
T-shirt fundraisers online campaign
Dog wash event
Charity Boxes (a money receptacle with an adoptable pet's picture attached placed around town)
Dog treat bake sale
Silent auction
Crowdfunding
Sponsor a Pet campaign
Remember how we said that we are experts on custom pet kennels?! Gator Kennels not only makes custom, professional, easy to clean dog and cat kennels, we also love to support our non-profit customers!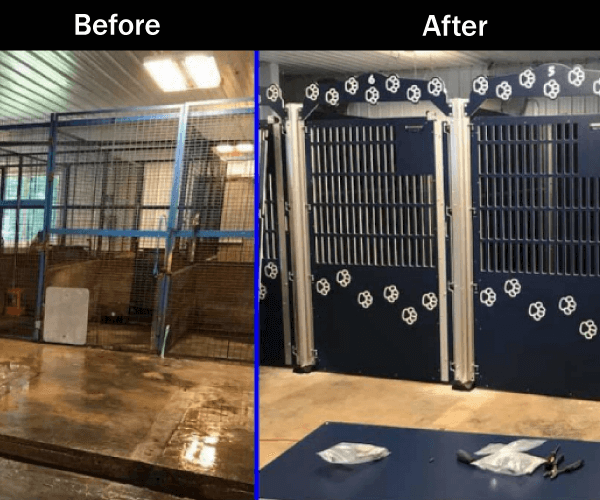 Gator Kennels offers a discount and free custom logo to all registered non-profit organizations.
Our kennels are perfect for non-profits because they are professional looking, extremely easy to clean, long lasting, reduce injury to animals and personnel, and illness rates decrease. We also offer add-on products to help further convenience and safety, such as the kennel flag system and fast-feeder system.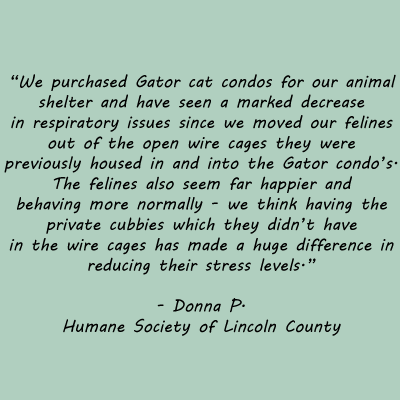 One of the most unique features of Gator Kennels products is the ability to fully customize. Not only does this allow you to proudly display your organization's logo, but the ability to customize the upper headers can lend a hand in fundraising efforts. Check out Tanner's P.A.W.S., an animal shelter in New York, that displayed their logo on the black and white gates and utilized the gate headers to display the name of donors who provided the funds for the sponsorship of that kennel unit.
We also offer coupon codes that you can give out to potential donors for the same discount when ordering products on your behalf. You can also use this as a sort of wish list or "registry" for all your desired Gator Kennel products!
Did you know that Gator Kennels offers other non-kennel products? We call them Gator Gear!
These are great items that can be used as silent auction items. Our dog breed hats are a fan favorite while our paw-print cutting boards are a necessity for every home! We also offer clocks that we can put your non-profit's logo on made in the same color as your kennels. Please contact us for special wholesale pricing on select items.
While the statistics shared above are staggering, there are many wonderful and kind people ready and willing to help animals, and we greatly appreciate them all! Gator Kennels hopes to be able to come alongside you and your non-profit organization to help more animals with our easy ordering process and beautiful kennels.
Please contact us, we can't wait to help you get started today!