Posted by Kelli, Gator Kennels on 2019-07-20
This is part of a series of blog posts about starting your own dog daycare or boarding business.
While dog boarding and daycare facilities are consistently busy through out the year, there are specific times that tend to be a bit more hectic. Of course during the calendar holidays but even more so during the summer time. With the increase in dogs the exposure rate of diseases is not only also increased but become harder to avoid. But don't fret! There are some easy and attainable ways to decrease the chances of your precious pooch getting sick.
The most common diseases dogs can catch in a multi-dog facility according to the American Veterinary Medical Association are as follows:
Canine Distemper - virus spread by particles in the air and respiratory secretions.
Dog Influenza - virus spread by respiratory secretions and contaminated objects/surfaces.
Parvo - virus spread by direct contact between dogs and contaminated objects/surfaces/soil.
Kennel Cough - virus spread by direct contact, airborne droplets, and contaminated objects/surfaces.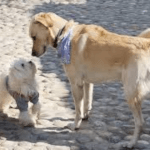 Kennel Cough is probably the most well known and common virus of facility diseases. The symptoms for kennel cough are typically: (AKC, 2019)
a strong cough with a "honking" like sound
runny nose
sneezing
lethargy
loss of appetite
low fever
While it can be really tempting to conclude that taking your dog to a boarding or daycare facility is too risky, more consideration needs to be taken. An expert at PetMD discusses the importance of socializing your dog. Socializing your dog can decrease their fear or fearfulness of new or unusual circumstances. This is an obvious reason for dogs and their owners alike but it can also help decrease stress related health issues. Socializing your dog with other dogs as well as people is beneficial when the necessary visits to the vet come time. Most dogs respond to fear with aggression, putting every person in a close vicinity as well as other pets in harms way. A dog that is stressed, aggressive, or fearful can make it difficult for the vet to objectively evaluate and therefore treat true aliments, especially ones involving the heart and lungs. Understandably, many dog owners feel embarrassed by their dogs behavior and decide to avoid any public engagements, regardless of the necessity. Non-social dogs tend to live a more sedentary life as they don't know how to behave with others, in a group setting or on an individual bases such as a walk or other exercises. The lack of exercise not only affects the dog's physical health but it's mental health as well. Lastly, dog who are not socialized can be hard to handle resulting in inadequate grooming, if that is necessary for the breed of your dog. If drastic restraint is unavoidable during an appointment, the result may be injury to the dog as well as the groomer.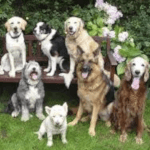 So then what are realistic measures to take to keep your dog social but also protect their health?
The biggest key is prevention. The first prevention measure to take is to keep your dog properly vaccinated and up to date. Many boarding facilities require a proof of the Bordetella vaccine at drop off in order for admission. This vaccine helps to fight against the causes leading to kennel cough. Keeping your dog properly vaccinated not only protects your dog but helps to keep other dogs healthy as well. Of course, if your dog presents with any of the symptoms above, take them into the vet to get checked out.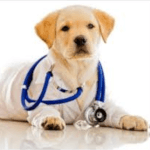 If your dog is diagnosed with an illness most likely the veterinarian with prescribe antibiotics and rest. As with people, dogs heal best when they are able to rest.
Now that we know the risks of the kennel diseases does NOT out-way the importance of social interaction; a multi-dog boarding or daycare facility needs to take preventative measures to help lessen the chances of exposure. One point is to ensure proper ventilation and air flow within the indoor space. Especially since most of the above diseases are spread by airborne substances.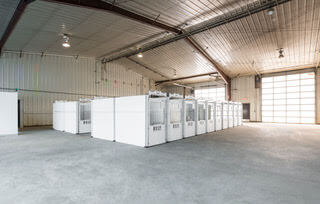 Another big prevention measure to take is to properly clean and sanitize all areas and surfaces. A good saying to remember is, "clean to kill," clean as thoroughly as possible to clean all the germs! All of Gator Kennels' units, our Commercial Dog Kennels and Double-Stack, are super easy to clean with suggested and simple cleaning agents. Check out one of our blogs all about what to use to clean the kennels here.
This is what one of our customers had to say about our kennels: "We love our Gator Kennels! They are the first thing that people notice when they walk into our kennel. Maintenance is a breeze. They are easy to clean and sanitize. They are sturdy and hold up to large breeds with no problem."
In addition to being easy to clean and maintain, the material we use is HDPE plastic - which is naturally anti-microbal and PVC plastic (Double-Stack box), both are water and urine resistant. Many of our customers have reported seeing a decrease in kennel related diseases after installing our kennels! Our Kennels are customized in size, color, and design. You choose the layout that best fits your space. This allows the dog a spacious and safe place to rest from all the socializing!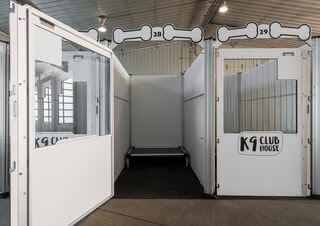 Our dogs are more than just pets, they are family, and like our human family members, we want to do all we can to keep them happy, healthy, and safe. There are so many amazing dog boarding and daycare facilities that treat them as such, giving you peace of mind to leave them in their care. While your duty is to ensure proper immunizations, it's the daycare or boarding facility's responsibility to maintain a clean and sanitized environment. Gator Kennels' products make the job easier for the dog boarders and doggie daycares to keep your dog healthy and safe by quicker cleaning, therefore spending more time loving on and playing with your furry family member.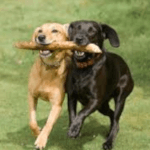 At Gator Kennels we pride ourselves on making an easy to clean and maintain, safe, secure, and custom kennels. Be sure to check out our website and don't hesitate to contact us!