Posted by Allie, Gator Kennels on 2021-05-04
The Yorkshire Terrier was a fashionable lapdog for English Hierarchy in Victorian times.
Yorkshire Terrier Stats:
Temperament: Affectionate, Sprightly, Tomboyish
Height: 7-8 inches
Weight: 7 pounds
Life Expectancy: 11-15 years
Did you know...the Yorkshire Terrier was developed during the mid-1800s in the northern English counties of Yorkshire and Lancashire?
That's right, they became a fashionable lapdog for proper English ladies in late Victorian times, but its beginnings were distinctly working-class. The breed is said to be the creation of weavers from Scotland who migrated to the English north country and brought their Scottish terriers with them. (We pause here to make the distinction between Scottish terriers, that is, terriers of Scotland, and the particular breed designated as Scottish Terriers.) Several breeds of now-extinct Scottish terriers are a part of the Yorkie's genetic mix, along with such still-extant terriers as the Skye and Dandie Dinmont. One historical source suggests the addition of Maltese blood.
The Scots weavers were proud of their tough little terriers, bred small enough to squeeze into the nooks and crannies of textile mills in pursuit of rodents. Jokes were made about the Yorkie's long, silky coat, inferring that its finely textured hair was a product of the looms. The Yorkie's home region was a center of mining as well as textile making, and many Yorkies were employed in coal mines as exterminators.
The turning point in the breed's history came in 1886, when the Kennel Club (England) granted the Yorkie recognition. With this splash of publicity, the Yorkie became fashionable as a ladies' companion. And, as the Yorkie's popularity among the fashionable increased, its size decreased to better meet its new job description: adorable, amusing companion sitting in the lap of luxury.
Temperament:
Smart and self-assured, the Yorkshire Terrier is a combination of endearingly small size and adventurous terrier spirit. The breed displays a range of personalities. Some are cuddly and perky, wanting nothing more than to follow in their people's footsteps throughout the day. Others are mischievous, outgoing, and into everything. They definitely are housedogs and don't tolerate extreme heat or cold well.

Exercise:
Even small dogs require exercise to stay healthy, both mentally and physically. Yorkies will benefit from both moderate exercise, such as walks with their owner at a steady pace, as well as occasional short bursts of activity, such as chasing after a tennis ball in the backyard.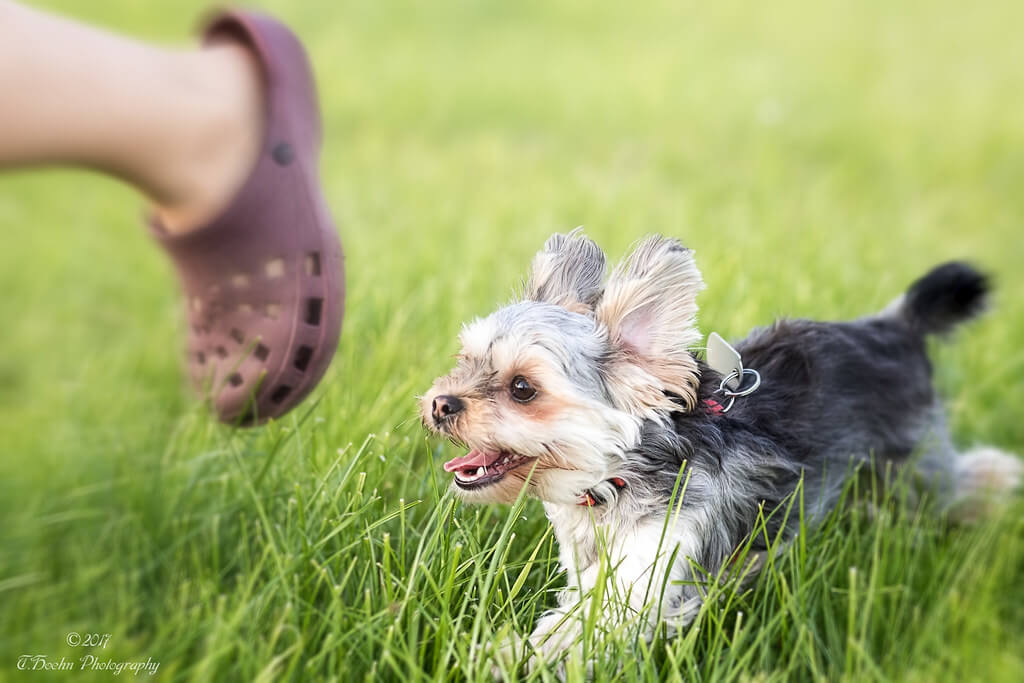 Grooming:
The Yorkshire Terrier's coat is long, silky, and perfectly straight without any hint of a wave. Show dogs have hair that reaches the floor. They have a single coat and shed very little. If the coat is kept long, it needs to be brushed daily. To avoid eye irritation, the hair on the upper part of the head should be trimmed short or pulled up into a topknot. The Yorkie will need a bath every week or so.
Diet:
The Yorkshire Terrier should do well on a high-quality dog food, whether commercially manufactured or home-prepared with your veterinarian's supervision and approval. How much your adult dog eats depends on his size, age, build, metabolism, and activity level. Dogs are individuals, just like people, and they don't all need the same amount of food. It almost goes without saying that a highly active dog will need more than a couch potato dog.
Health:
Yorkies are generally healthy, but like all breeds, they're prone to certain health conditions such as eye disorder and callaosed trachea. Eye infections, teeth, and gum problems also can occur.
Progressive Retinal Atrophy (PRA): A degenerative eye disorder. Blindness caused by PRA is a slow process resulting from the loss of photoreceptors at the back of the eye. PRA is detectable years before the dog shows any signs of blindness.
Collapsed trachea: The trachea, which carries air to the lungs, tends to collapse easily. The most common sign of a collapsed trachea is a chronic, dry, harsh cough that many describe as being similar to a "goose honk." Collapsed trachea can be treated medically or surgically.