Posted by Allie, Gator Kennels on 2021-03-30
Learn more about the Dalmatian dog breed!
Dalmatian Stats:
Temperament: Dignified, Smart, Outgoing
Height: 19-24 inches
Weight: 45-70 pounds
Life Expectancy: 11-13 years
Did you know...Researchers have used ancient artifacts and writings to support theories placing the Dalmatian's birth in the British Isles, Europe, North Africa, and Asia?
There is no doubt, however, that by the early 1800s the breed was closely associated with a swath of Central Europe along the Adriatic Sea, the region once known as Dalmatia. Dalmatians have a job description unique among AKC breeds: coach dog. Their traditional occupation was to trot beside horse-drawn coaches, and to guard the horses and rig when otherwise unattended. Dals were alongside the caravans of the Romani people during their ceaseless wanderings around Europe. This association with the peripatetic Romani helps explain why Dal origins are so difficult to pin down—as with the travelers themselves, the world was their home.
British nobles, too, employed Dals as handsome accents to their livery. The English had a close affinity with the breed and gave it such nicknames as the English Coach Dog, Spotted Dick, and the Plum Pudding Dog (the Dal's spots resembling the candied fruit and nuts that fleck Britain's traditional holiday dessert). Back in the 1800s, when horses pulled fire engines, Dals began their long association with firefighters. These days, Dals accompany the famous Budweiser Clydesdales on parade.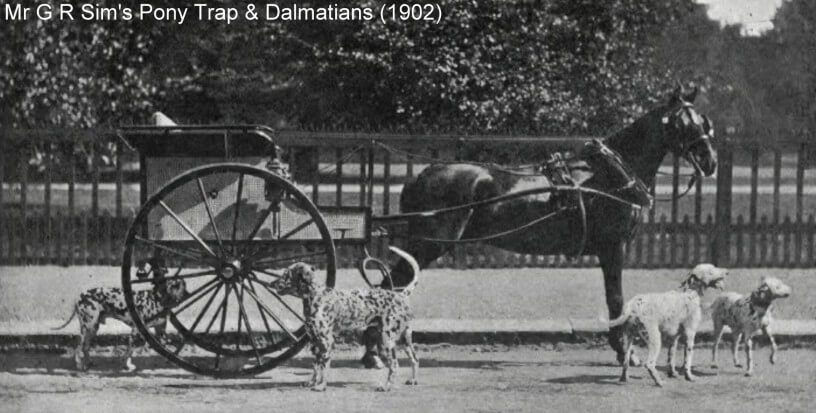 Temperament:
Born to run, the Dalmatian is a high-energy dog with an endless capacity for exercise. He loves attention and has a strong desire to please, making him easy to train through positive reinforcement such as food rewards, praise, and play.
He's a smart dog with a sly sense of humor, and will do his best to make you laugh. The Dalmatian is alert and interested in everything that goes on around him and makes an excellent watchdog.
Like every dog, the Dalmatian needs early socialization — exposure to many different people, sights, sounds, and experiences — when they're young. Socialization helps ensure that your Dalmatian puppy grows up to be a well-rounded dog.

Exercise:
All Dalmatians need regular exercise to stay fit and happy. This exercise can consist of chasing a ball tossed across the backyard, running alongside a biking or jogging owner, or taking a nice, long hike through the woods. Since a puppy's bones and joints aren't at their mature strength until two years of age, be wary of strenuously exercising the dog before then. Dalmatians can be very high-energy dogs and can easily get into mischief if they don't have enough opportunity for physical and mental exercise.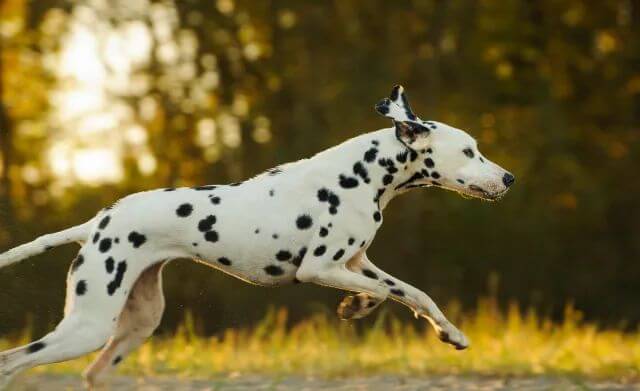 Grooming:
The Dalmatian's coat is a thing of beauty with its colored spots on a sparkling white background, and it doesn't take much work to keep it in good condition. Occasional baths and weekly brushing with a horsehair mitt or rubber curry comb to pull away dead hairs will keep the Dal looking his best. His nails should be trimmed at least monthly. Because his ears flop down, they should be checked regularly—your breeder and your veterinarian can suggest a good routine and cleaning materials, and will show you how to care for them.
Diet:
A high-quality dog food appropriate for the dog's age (puppy, adult, or senior) will have all the nutrients the Dalmatian needs. To avoid tipping the scales, watch your dog's calorie consumption and weight level. Treats can be an important aid in training, but giving too many can cause obesity. Give table scraps sparingly, if at all, especially avoiding cooked bones and foods with high fat content. Learn about which human foods are safe for dogs, and which are not. Check with your vet if you have any concerns about your dog's weight or diet.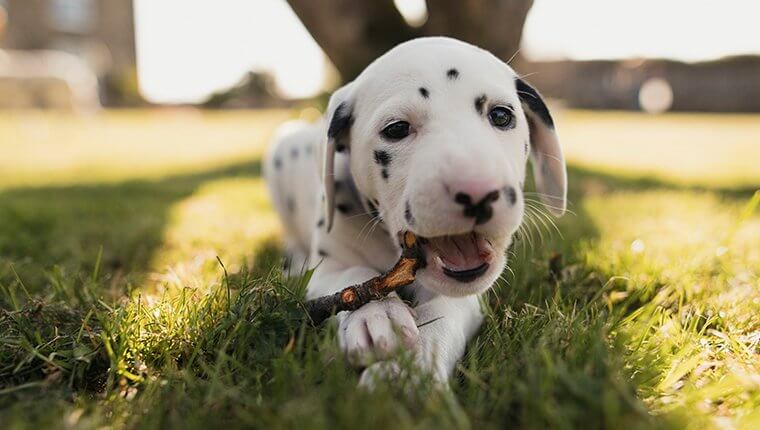 Health:
Dalmatians are generally healthy, but like all breeds, they're prone to certain health conditions. Not all Dalmatians will get any or all of these diseases, but it's important to be aware of them if you're considering this breed. If you're buying a puppy, find a good breeder who will show you health clearances for both your puppy's parents. Health clearances prove that a dog has been tested for and cleared of a particular condition.
Hip dysplasia: Hip dysplasia is a heritable condition in which the femur doesn't fit snugly into the pelvic socket of the hip joint. Hip dysplasia can exist with or without clinical signs. Some dogs exhibit pain and lameness on one or both rear legs. As the dog ages, arthritis can develop. X-ray screening for hip dysplasia is done by the Orthopedic Foundation for Animals or the University of Pennsylvania Hip Improvement Program. Dogs with hip dysplasia should not be bred. Ask the breeder for proof that the parents have been tested for hip dysplasia and found to be free of problems.
Skin allergies: Many Dalmatians suffer from skin allergies. There are three main types of allergies: food-based allergies, which are treated by an elimination process of certain foods from the dog's diet; contact allergies, caused by a reaction to a topical substance such as bedding, flea powders, dog shampoos, and other chemicals, and treated by removing the cause of the allergy; and inhalant allergies, caused by airborne allergens such as pollen, dust, and mildew. The medication for inhalant allergies depends on the severity of the allergy. It is important to note that ear infections often accompany inhalant allergies.
Iris Sphincter Dysplasia: an inherited ocular disorder that can cause sensitivity to bright light, poor night vision, partial or total blindness, and cataracts. At this point it is not frequently seen in Dalmatians although some studies argue that it is often overlooked. The condition and its treatments are being studied.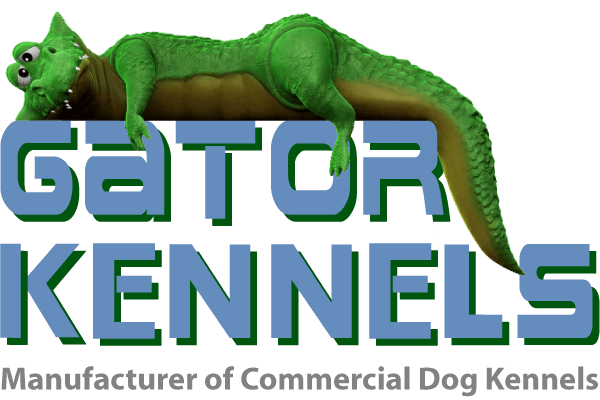 https://dogtime.com/dog-breeds/dalmatian#/slide/1...