Posted by Allie, Gator Kennels on 2021-03-18
Learn more about the Beagle dog breed!
Beagle Stats:
Temperament: Friendly, Curious, Merry
Height: 13 inches & under, 13-15 inches
Weight: under 20 pounds (13 inches & under), 20-30 pounds (13-15 inches)
Life Expectancy: 10-15 years
Did you know...that the origins of this ancient breed have been the subject of conjecture for centuries?
Even the breed name is a shrouded in mystery. Some experts say it derives from the Gaelic word beag ("little"), while others point to the French term for the sound hounds make while hunting: be'geule.
There are reports of small pack-hounds employed to hunt rabbit and hare in England long before the Roman legions arrived in 55 B.C. An English authority called the Beagle the "foothound of our country, indigenous to the soil." By the 1500s, most English gentlemen had packs of large hounds that tracked deer, and smaller hounds that tracked hares. The smaller, more compact hounds were ancestors of our modern Beagle.
The phrase "foot hound" is vital to understanding the Beagle's broad appeal for hunters in England, the European Continent, and North America. Unlike larger pack hunters like foxhounds or Harriers, the Beagle could be hunted on foot—no horse was necessary. Those who couldn't afford to feed and stable a mount, and ladies and gentlemen too old spend a hard day thundering across the countryside on horseback, could easily keep up with a pack of Beagles on foot.
Beagles imports began arriving in America in the years after the Civil War, and their popularity among U.S. rabbit hunters was immediate. The AKC registered its first Beagle, named Blunder, in 1885. To this day, "beaglers" in woodsy areas of North America still swear by their breed's great nose, musical voice, and enthusiastic approach to rabbit hunting.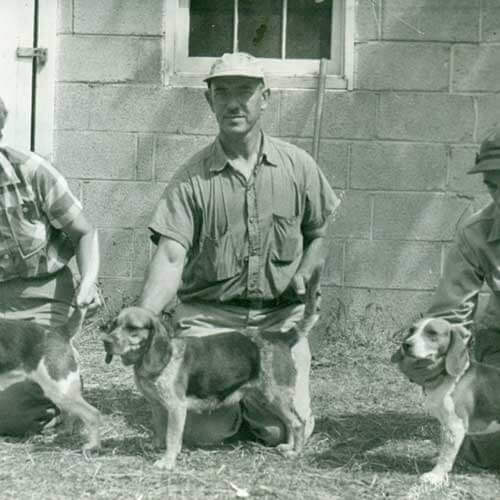 Beagle Fact: Beagles were bred for hunting.
Temperament:
The temperament of a Beagle is notoriously friendly and gentle. They are even-tempered dogs, neither too aggressive nor too timid. They have medium energy and are of a smaller build. Other Beagles traits are "happy-go-lucky," and loyal. They also are known for their soulful expressions.
The breed was meant to work together in packs, and consequently, Beagles get along very well with other dogs and prefer companionship. Beagles will look to their owners and families as their new "pack." For this reason, among others, they make terrific family dogs as they love to be surrounded by energy, love, and attention.
Not only do Beagles make great additions for families, but also they can be great additions for singles or couples as well (as long as the singles or couples enjoy spending time outdoors and can give their dogs plenty of exercise and play time). Beagles love any opportunity to use their noses, which is why outdoor time is so important.

Exercise:
Beagles thrive outdoors through walks and playtime. They love sniffing and following scents. You will find that your Beagle will be much happier if you let him have time every day for sniffing. Beagles are escape artists, it is recommended that you have an enclosed yard so that he doesn't wander too far. Beagles also have moderate exercise needs. Being able to take your dog for a walk every day is very important. Preferably on a leash, because as a scent hound with a very strong hunting instinct, a Beagle will not be able to resist the urge to run off in pursuit of a compelling scent!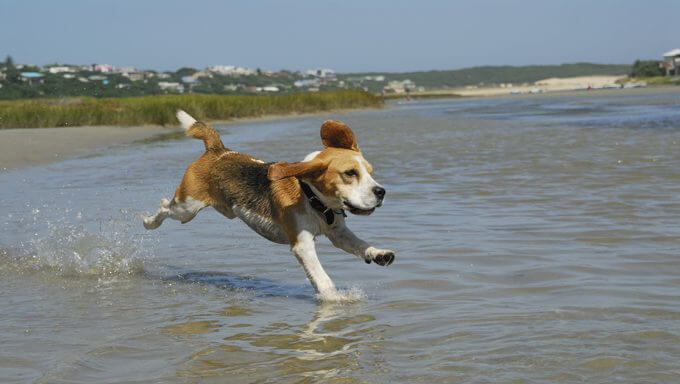 Grooming:
The Beagle has a smooth, dense double coat that gets heavier in the winter, so spring is the shedding season. Beagles also shed moderately year-round. Weekly brushing with a medium-bristle brush, a rubber grooming mitt or tool, or a hound glove will remove the loose hair, and promotes new hair growth as well. Beagles don't need to be bathed too often, unless they happen to get into something particularly messy. As with all breeds, the Beagle's nails should be trimmed regularly, because overly long nails can cause the dog pain as well as problems walking and running.
Diet:
The Beagle should do well on a high-quality dog food, whether commercially manufactured or home-prepared with your veterinarian's supervision and approval. Any diet should be appropriate to the dog's age (puppy, adult, or senior). Some dogs are prone to getting overweight, so watch your dog's calorie consumption and weight level. Treats can be an important aid in training, but giving too many can cause obesity. Learn about which human foods are safe for dogs, and which are not. Check with your vet if you have any concerns about your dog's weight or diet. Clean, fresh water should be available at all times.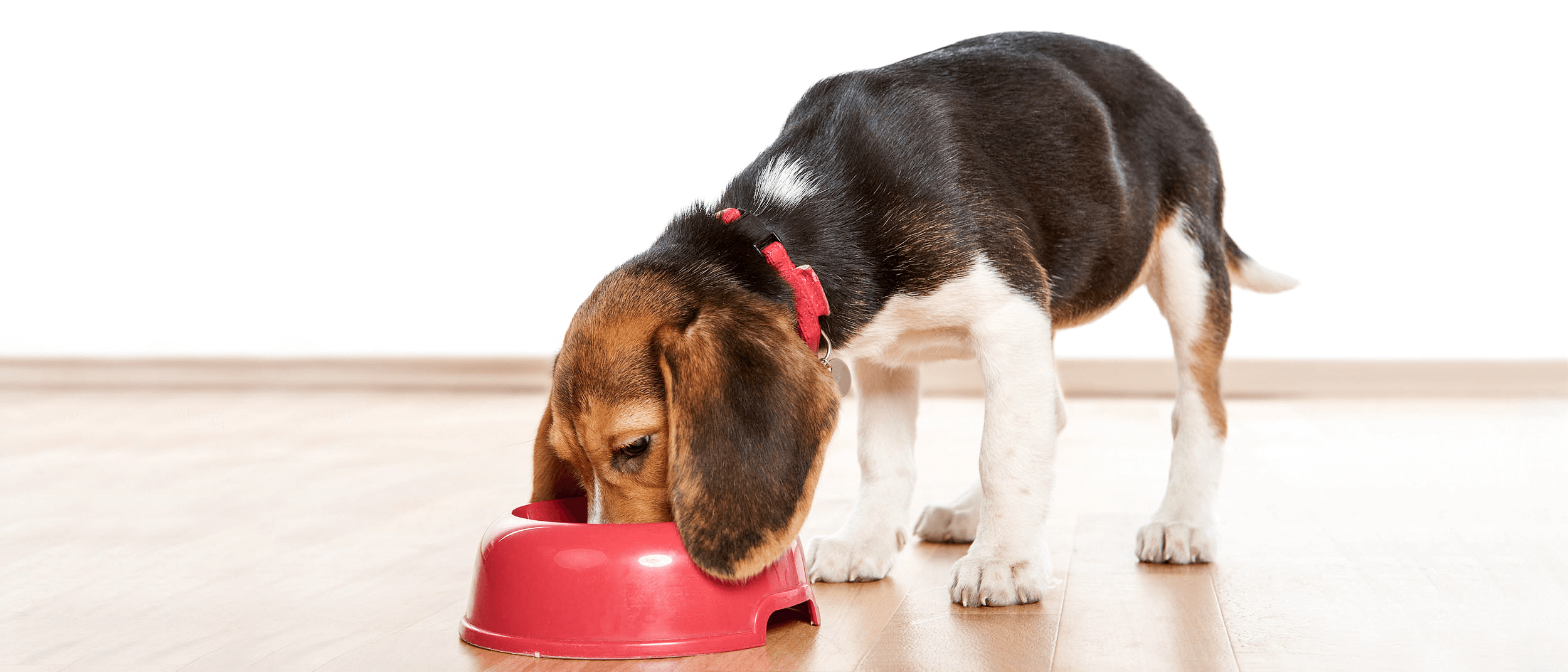 Health:
Responsible breeders will screen their breeding stock for health conditions such as hip dysplasia, hypothyroidism, epilepsy, luxating patella (a dislocated kneecap), and eye disorders. The most common health problems associated with Beagles are obesity, epilepsy, allergies, cherry eye, and hypothyroidism, conditions, which can be treated/managed by your local veterinarian.
Hip Dysplasia: This is an inherited condition in which the thighbone doesn't fit snugly into the hip joint. Some dogs show pain and lameness on one or both rear legs, but others don't display outward signs of discomfort. (X-ray screening is the most certain way to diagnose the problem.) Either way, arthritis can develop as the dog ages. Dogs with hip dysplasia should not be bred — so if you're buying a puppy, ask the breeder for proof that the parents have been tested for hip dysplasia and are free of problems.
Cherry Eye: This is a condition in which the gland under the third eyelid protrudes and looks rather like a cherry in the corner of the eye. Your vet may need to remove the gland.
Beagle Fact: President Lyndon Johnson had three beagles.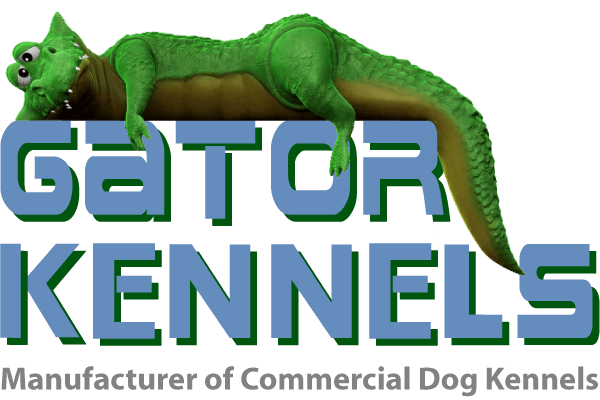 https://www.akc.org/dog-breeds/beagle/