Posted by Allie, Gator Kennels on 2021-03-03
Learn more about the American Staffordshire Terrier dog breed!
American Staffordshire Terrier Stats:
Temperament: Confident, Smart, Good-Natured
Height: 18-19 inches (male), 17-18 inches (female)
Weight: 55-70 pounds (male), 40-55 pounds (female)
Life Expectancy: 12-16 years
Did you know...that years ago in Great Britain, several dog breeds were created to excel in blood sports?
They were expected to fight one another, or they were turned loose in packs against a staked bear or bull, with spectators betting on the grisly outcome. Such revolting pastimes have long since been outlawed. These sad spectacles did, however, leave us a happy legacy: Several of today's most loved breeds—the Bulldog, the Bull Terrier, and the American Staffordshire Terrier among them—got their start as fighting and baiting dogs of the 18th and 19th centuries.
When it comes to the bull-type terrier breeds, all can agree that the common component in their makeup was the Bulldog. (Note that the Bulldog of 200 years ago was a vastly different, more ferocious creature than the lovable "sourmugs" of today.) Argument begins when breed experts try to nail down which preexisting terrier breeds reside in the AmStaff's genetic background. Some suggest that such extinct breeds as the White English Terrier and Black-and-Tan Terrier were part of the genetic mix that led to the creation of the Staffordshire Terrier, forerunner of the AmStaff.
Whatever the AmStaff's true genetic composition might be, we are certain that working-class Brits with an interest in blood sports combined the stocky build and punishing jaws of old-style Bulldogs with the innate courage and "gameness" of terriers to create bull-type terrier breeds. By the mid-1800s, Staffordshire Terriers had arrived in America. U.S. breeders developed a Staffordshire Terrier that was larger than the English version. Eventually, the AKC recognized the two types as separate breeds: the Staffordshire Bull Terrier and the American Staffordshire Terrier.
The well-bred AmStaff of today is a more mellow fellow than his pit-fighting ancestors and has long been a great American favorite. This is suggested by the breed's many sightings in our popular culture: In 1903, an AmStaff named Bud was along for the ride on America's first cross-country auto trip (the subject of the Ken Burns documentary "Horatio's Drive"); Petey, in the old "Our Gang" film comedies of the 1930s, was an AmStaff, as is Tige, the dog in the Buster Brown Shoes logo; and America's most decorated American war dog was an AmStaff named Sgt. Stubby, a K-9 of World War I who counted three U.S. presidents among his admirers.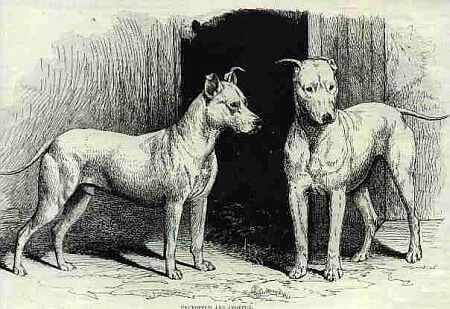 Temperament:
These dogs love people and have no idea that their size is something of a deterrent to being a lap dog. Confident and keenly aware of their surroundings, they are watchdogs in that they may alert you to the presence of strangers, but that's primarily because they're eager to greet "their" guests.
While their love of people makes them failures as guard dogs, their courage is unmatched and they will defend their family with their lives.
Like every dog, AmStaffs need early socialization — exposure to many different people, sights, sounds, and experiences — when they're young. Socialization helps ensure that your your puppy grows up to be a well-rounded dog.

Exercise:
An athletic, energetic dog such as the American Staffordshire Terrier requires a lot of exercise. Leaving the dog out in the yard all day is not the right approach, however: Yes, he can run around, but the AmStaff is a people-oriented dog who thrives when he is made part of the family. Long play sessions with his owner develop his physical and psychological health. In addition, many AmStaffs enjoy taking part in canine sports such as obedience, agility, and dock diving. AmStaffs are even trained in search-and-rescue and excel at it.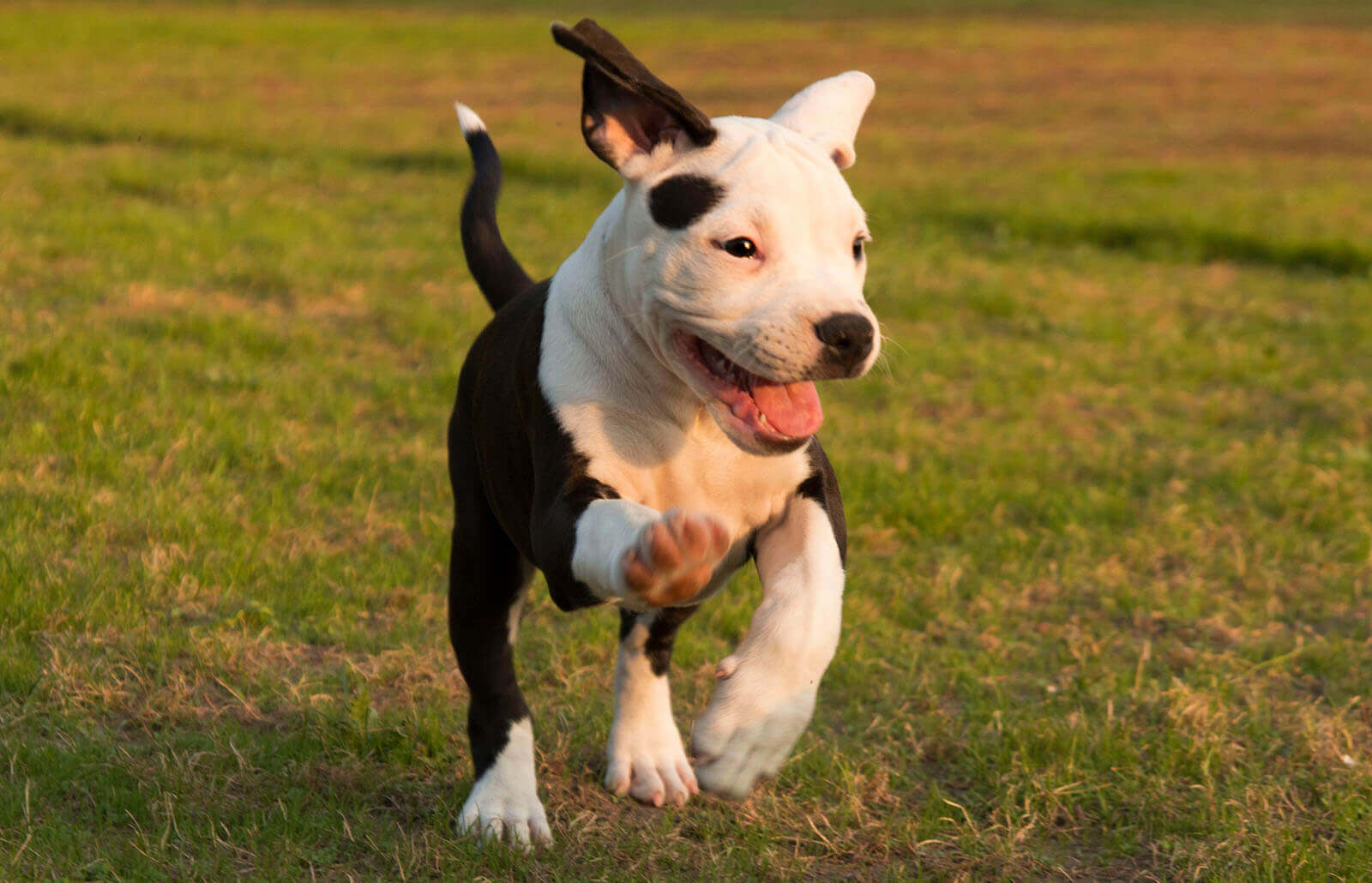 Grooming:
The short coat is shiny and stiff to the touch, and comes in all colors — red, blue, brown, grey, black and white, and brindle, among them. A quick once-over with a soft bristle brush every week is usually enough to remove any dirt or other foreign matter. What's more, a good brushing distributes skin oils throughout the coat to help keep it healthy. If an AmStaff gets into something particularly messy, a bath will probably be called for. Otherwise, bathing can wait until when and if he develops a "doggy" smell.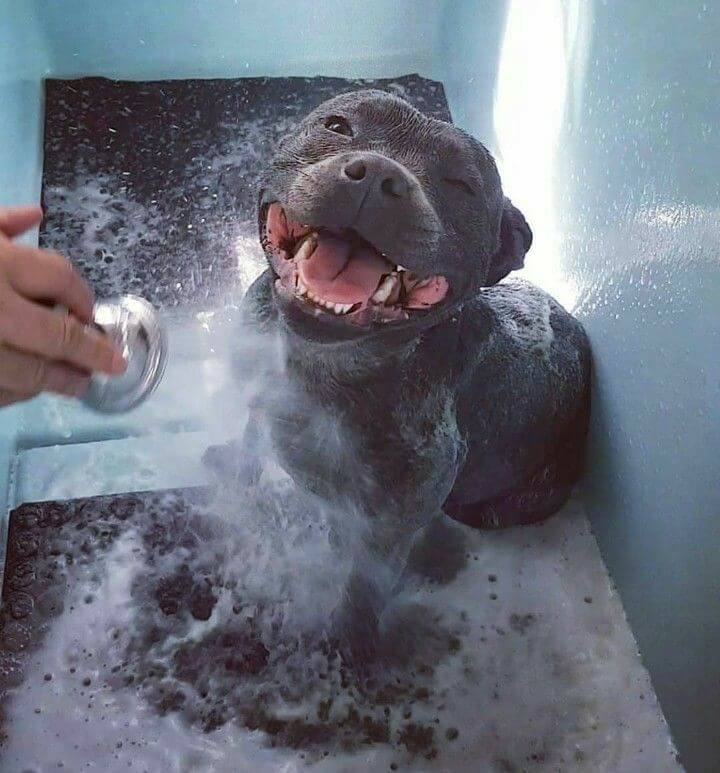 Diet:
The AmStaff should do well on a high-quality dog food, whether commercially manufactured or home-prepared with your veterinarian's supervision and approval. Any diet should be appropriate to the dog's age (puppy, adult, or senior). Some dogs are prone to getting overweight, so watch your dog's calorie consumption and weight level.
Health:
AmStaffs are generally healthy, but as with all breeds, they're prone to certain health conditions. Not all AmStaffs will get any or all of these diseases, but it's important to be aware of them if you're considering this breed.
Hip Dysplasia (HD): This condition is a malformation of the hip joint ball and socket. It can be extremely painful depending on the severity of the condition. Dogs who are going to be bred should have x-rays of their hips done at 2 years of age to ensure they do not have this condition.
Allergies: Allergies are quite common in APBT/AmStaffs. Skin allergies are typically caused by such environmental allergens as fleas, grass, pollen, and dust. They can also be food related, but this is less common. Common food allergens include beef, rice, wheat, and corn. Allergies can cause intense itching and discomfort, which means dogs will dig and chew sometimes until they bleed. This is risky because secondary infections can develop in the damaged tissue. To treat allergies, the cause must be identified and removed from the dog's environment if possible. A veterinarian can help you with this, as well as let you know which allergy symptoms can be controlled with medication.